Description
Toshiba Ultra Pure Filter
PM2.5 purification 94% efficiency
PM2.5 refers to particulate matters coming from atmospheric pollution that have a diameter of less than 2.5 micrometers.
Studies have found a close link between exposure to fine particles and lung disease or worsen chronic disease.
Toshiba Ultra Pure filter captures up to 94% of PM2.5, creating healthy living spaces at home.

Self-Cleaning function plus Aqua resin coated
Leading innovation with an air conditioner that reduces water and oil formation and prevents dust sticking to the unit and with a self-cleaning function to extend the product life.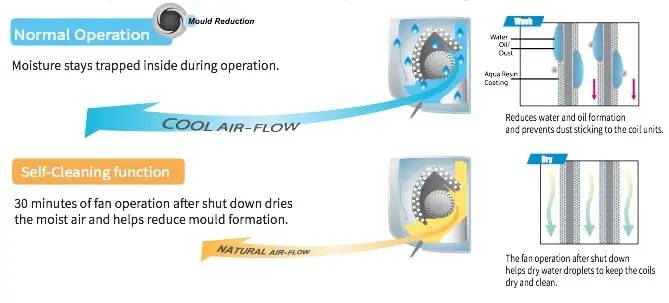 Simply Serviceable
Toshiba YouMe is designed for complete serviceability. During regular maintenance, your technician will breeze through the YouMe service with an easily removable front panel, drain pan and cross flow fan. With 82mm of clearance, nearly 80% more then the previous generation, dust and dirt can't hide in tight space any more. You can rest assured that when your servicing is complete, YouMe will be nearly as clean as new.